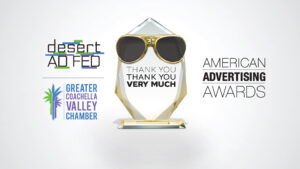 Thank you to everyone who submitted to this year's AAF American Advertising Awards. We wish these award announcements were arriving with more pomp, there was some great work done by our creative community this year.  Congratulations to all of this years winners listed below.  All judging was handled by the AAF Las Vegas Club.
Thank you to all of the companies who submitted to this year's awards competition.
Agua Caliente Casinos, Augustine Casino, BIGHORN Golf Club, BNP Paribas Open, Coachella Valley Water District, Cord Media, Equanimity Media, Fantasy Springs Resort Casino, Greater Coachella Valley Chamber of Commerce, Greater Palm Springs CVB, Hunter Johnsen, JNS Next, Jones Agency, Kaminsky Productions, SugarPop Creative
Best of Show
BNP Paribas Open – Tennis Paradise | BNP Paribas Open
Best of Digital
Hunter Johnsen – We Deliver.
Best of Print
Jones Agency – PSAM Annual Gala Invitation
Best of Mixed Media
Greater Palm Springs CVB – Atlanta Delta Activation
Best of Video
BNP Paribas Open – Tennis Paradise | BNP Paribas Open
People's Choice
Cord Media/BIGHORN Golf Club- BIGHORN Magazine 2020
GOLD
Greater Palm Springs CVB – Atlanta Delta Activation
BNP Paribas Open – Tennis Paradise | BNP Paribas Open
Jones Agency – PSAT "Your Great Escape" Campaign
BNP Paribas Open – Tennis Paradise | BNP Paribas Open
BNP Paribas Open – Tennis Paradise | BNP Paribas Open
BIGHORN Golf Club – BIGHORN Magazine
Cord Media – BIGHORN Magazine 2020
JNS Next – AMS Luxury Brochure
Cord Media – Teserra
Jones Agency – PSAM Annual Gala Invitation
BNP Paribas Open – Tennis Paradise | BNP Paribas Open
Greater Palm Springs CVB – Find Your Meeting Oasis
BNP Paribas Open – Tennis Paradise | BNP Paribas Open
Cord Media – BIGHORN Magazine 2020
Greater Palm Springs CVB – Find Your Meeting Oasis
Cord Media – Tamarisk 2020
Hunter Johnsen – If Not Us, Who?
Jones Agency – Lighthouse Print Campaign
BIGHORN Golf Club – The Great American BAMStand
Cord Media – CAM: Property Pros
Greater Palm Springs CVB – CraftGPS
Greater Palm Springs CVB – ArtsGPS App
Greater Palm Springs CVB CraftGPS – Seymour's
Agua Caliente Casinos – Experience Extraordinary
Greater Palm Springs CVB – Live Your Wellest Quiz
Jones Agency – The Spa at Sec-he Print Campaign
Cord Media – Capital Campaign: Lions & Rhinos
Greater Palm Springs CVB – dineGPS
Hunter Johnsen – We Deliver.
Greater Palm Springs CVB – Alaska – Depart from everything.
Greater Palm Springs CVB – 2019 Summer Television Co-Op
JNS Next – Synergy IS Website
Greater Palm Springs – CVB Wander List
Cord Media – The Reserve 2019/2020
Greater Palm Springs CVB – This Weekend – Greater Palm Springs
Greater Palm Springs CVB – DineGPS – Kitchen 86
Greater Palm Springs CVB – Wander List – Series Trailer
Greater Palm Springs CVB – 2019 Summer Co-Op: Agua Caliente
Agua Caliente Casinos – Madden 20 Night Tournaments
Cord Media – Empire Vein Specialists
Hunter Johnsen – Every Drop Counts
Hunter Johnsen – Cada Gota Cuenta
Hunter Johnsen – Every Drop Counts
Hunter Johnsen – Cada Gota Cuenta
Hunter Johnsen – We Deliver.
Coachella Valley Water District – CVWD Web
Silver
Agua Caliente Casinos – Light It Up Holiday, Multi-million Sizzlin' Summer, The Show Social Video, ACE Club Campaign, Ultimate Tailgating Giveaway
BIGHORN Golf Club – BIGHORN Calendar, BIGHORN Welcome Home Invitation
Coachella Valley Water District – Budget-In-Brief
Cord Media – A New Way to Play. ,BIGHORN Visionary, BIGHORN Visionary, Stuft, The Living Desert: Celebrate
Equanimity Media – Plymouth Rock Technologies Overview
Greater Coachella Valley Chamber of Commerce – Discover Indio Magazine
Greater Palm Springs CVB – dineGPS eBlasts , 2019 Summer Co-Op: Palm Springs, Find Your Meeting Oasis – Venues, A Jingle All Our Own – Posters, American Airlines – CHILLspiration, GPS – A Jingle All Our Own, GPS – Consumer eBlasts, TREAT Restaurant Week Radio
Hunter Johnsen – INNOVATE, If Not Us, Who?, INNOVATE
JNS Next – Augustine Tribal Website, Augustine Casino Website, Anthem Mechanical Website
Jones Agency – F-117 Night Hawk campaign, Sec-he Integrated Campaign, Sec-he Music without Lyrics, PSAM 2019 Gala Honoree Video, PSAM 2019, Education Video, Lighthouse Integrated Campaign, PSAM GALA 75th campaign, 360 esports – In-Theater
Kaminsky Productions – Eisenhower Health Cancer Care
SugarPop Creative – Dezart Performs 2019-20 Season Art
Bronze
Agua Caliente Casinos – Wings Social Wall, eSports After Dark, Light It Up NYE Campaign, Agua Caliente Casinos Logo, Sunstone Spa Menu, ACE Monthly Mailer Redesign, 360 Sports Logo Intro, Sunstone Spa VIP Invitation
Augustine Casino – Leader of the year 2018, Best Casino billboard 2019
BNP Paribas Open – Tennis Paradise | BNP Paribas Open, Tennis Paradise | BNP Paribas Open
Coachella Valley Water District – CVWD Connect, CVWD Annual Review, Ask the Experts, Your Water is Our Promise, Your Water is Our Promise
Cord Media – Indigo: Porsche Destination, Capital Campaign: Lions & Rhinos, Date Festival 2020
Fantasy Springs Resort Casino – Fantasy Springs Entertainment Ad
Greater Coachella Valley Chamber of Commerce – La Quinta Car Show Logo, Indio BBQ Festival, 2019 Voice of Business, 2020 Southwest Arts Festival
Greater Palm Springs CVB – WestJet – Live Your Wellest, 2019 Summer Co-Op: DoubleTree, TREAT – GPS Restaurant Week, Pandora Summer Radio Campaign, A Jingle All Our Own, GPS – A Jingle All Our Own, GPS Instagram Stickers, Find Your Meeting Oasis Social
JNS Next – Augustine Casino Locals Campaign, Arlington Year End Marketing Video, Augustine Anniversary Video
Jones Agency – Lighthouse Holiday Campaign, CVB Craft GPS Season 1, 1024 Logo & Business Card, Sec-he Music With Lyrics, MSJC Career Education Catalog, MSJC Viewbook, Sec-He Airport Video Wall, Sec-he TV Spot, Jones Agency Newsletter, PSAM GALA Save the Date TV spot
Kaminsky Productions – Hot Purple Energy