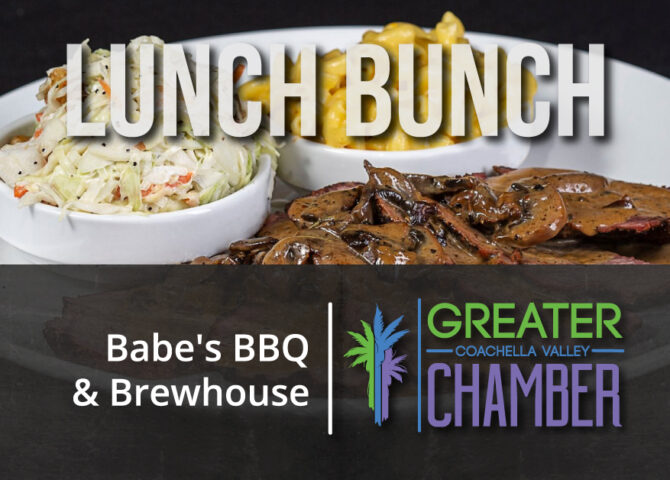 Lunch Bunch – Babe's Bar-B-Que & Brewhouse
add to calendar
This Lunch Bunch will be on site at Babe's Bar-B-Que & Brewhouse and we can only allow 20 attendees. You MUST register in advance.
The Greater Coachella Valley Chamber of Commerce is proud to present our Lunch Bunch Series, held on site at Babe's Bar-B-Que & Brewhouse.  This fun networking opportunity mixes two member favorites; business connections and great food!  The Lunch Bunch Series allows members to experience new culinary delights from across the valley while networking with fellow chamber members during their lunch hour.  Each attendee is encouraged to bring their business cards and 30 second elevator pitch with them.
The Lunch Bunch at Babe's Bar-B-Que & Brewhouse will be held on Friday, July 10, located at 71800 Highway 111 in Rancho Mirage. The event begins at 11:30 AM and will last for approximately one and a half hours.  There is no charge to attend, but members are responsible for the purchase of their own lunch.  The Lunch Bunch menu will include a choice of pulled pork sandwiches, BBQ chicken salad or baby back rib basket with 2 sides and a soft drink. Price is $20.00 per person tax or gratuity not included.  Due to social distancing guidelines space is limited to 20 and registration is required in advanced. For additional information contact the Chamber at 760.347.0676.
Please click HERE register.