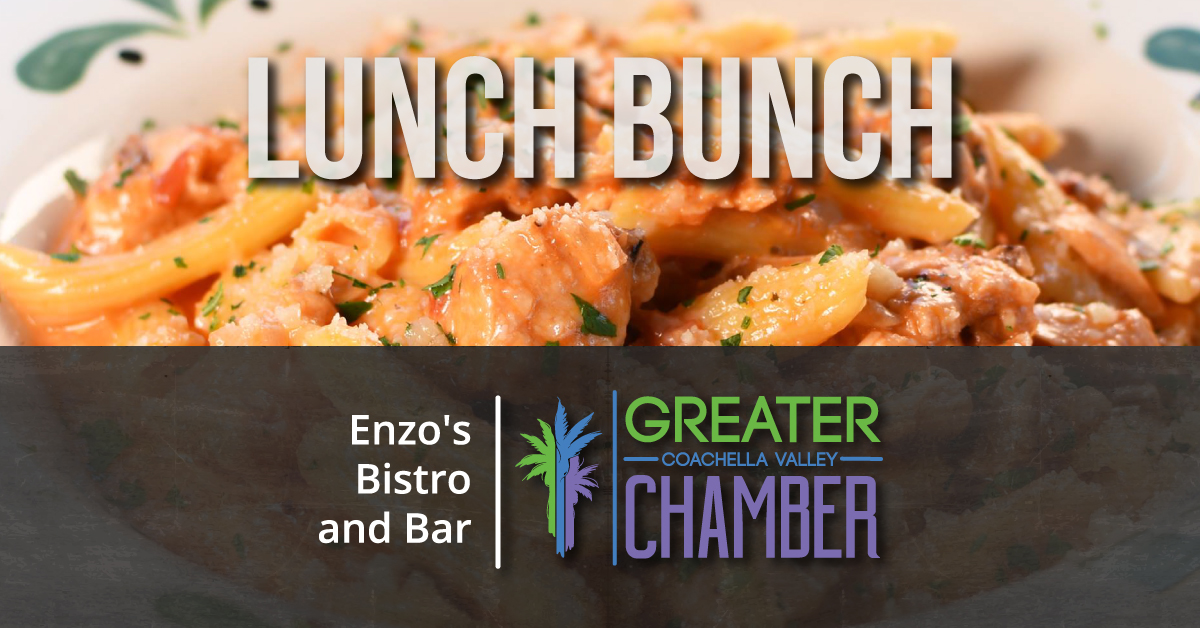 June 5, 2020 @ 11:30 am

-

1:00 pm
This Lunch Bunch will be on site at Enzo's Bistro and Bar and we can only allow 20 attendees. You MUST register in advance.
The Greater Coachella Valley Chamber of Commerce is proud to present our Lunch Bunch Series, held at Enzo's Bistro and Bar. This fun networking opportunity mixes two member favorites; business connections and great food! The Lunch Bunch Series allows members to experience new culinary delights from across the valley while networking with fellow chamber members during their lunch hour. Each attendee is encouraged to bring their business card and 30 second elevator pitch with them.
The Lunch Bunch at Enzo's Bistro and Bar will be held on Friday, June 5th, located at 78121 Avenida La Fonda in La Quinta. The event begins at 11:30 AM and will last for approximately one and a half hours. There is no charge to attend, but members are responsible for the purchase of their own lunch. We encourage all interested in attending to register. For additional information contact the Chamber at 760.347.0676.
Please note chamber staff will be following all applicable local, county and state guidelines during this event. We assume no liability for the safety of the facility or guests during this free event.  All attendees are responsible for taking personal safety precautions while on premises and are asked to follow all safety guidelines set forth by the establishment.  The host restaurant is responsible for the health and safety of their employees, facility, goods and services.