Publications
Advertising in the many products offered annually by the Greater Coachella Valley Chamber of Commerce is a major benefit of membership. The GEM is distributed monthly to over 23,000 residents and businesses in La Quinta, making it the largest annual distribution of any chamber sponsored print product in the Coachella Valley. Additional opportunities such as the Annual Discover Indio Visitors Guide and our Restaurant and Attractions Guide are wonderful opportunities to get your business known.
Click on the links below for more information, or contact The Chamber sales team at 760.347.0676.
NEW Page for The Gem: www.TheGemLQ.com where you will find recent archives, ad rates and article guidelines.
The GEM – older archives: Click here for The GEM archives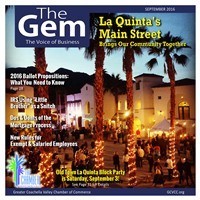 Cathedral City, Indio and La Quinta Maps coming in January 2018!