[pdf-embedder url="https://gcvcc.org/wp-content/uploads/2020/04/Cathedral-City-Mailer.pdf" title="Cathedral City Mailer"]
Established in 1941, the Cathedral City Chamber of Commerce serves the metropolitan area of Cathedral City.  Cathedral City has a population of 51,200 as of the last census. Situated between Palm Springs and Rancho Mirage, the city has the second largest population of the nine cities in the Coachella Valley.  Cathedral City Chamber of Commerce joined the Greater Coachella Valley Chamber of Commerce in 2017, our fourth partner chamber.
The City of Cathedral City has gone through a downtown revitalization over the last decade plus that included a new city hall, movie theater complex, and just opened live theater.  A new casino in downtown will continue to transform an already vibrant economy.
For more information about Cathedral City or the local Chamber of Commerce, please visit us at:
Cathedral City Chamber of Commerce
68487 E Palm Canyon Dr, Bldg. 3 Suite 31
Cathedral City, CA 92234
Tues-Fri 8:30AM – 4:30PM
(760) 347-0676
City of Cathedral City information click HERE
Things to do in Cathedral City click HERE
GCV CATHEDRAL CITY CHAMBER OF COMMERCE BOARD OF DIRECTORS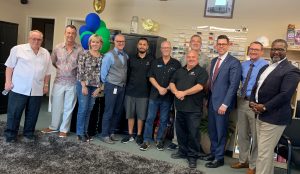 Gary Levingston (Chair), Jessup Auto Plaza
Haddon Libby (Treasurer), Windsor Drake
Stephen Burchard (Secretary), Stephen Burchard Real Estate
Joe Frazier, Frazier Pest Control
Scott Robinson, Cathedral City Boys & Girls Club
James Lindquist, Angel View
Adrian Rendon, Hemp City
Karen Riley, S.C.R.A.P. Gallery
Richard Altman, Runway the Restaurant