[pdf-embedder url="https://gcvcc.org/wp-content/uploads/2020/04/Coachella-Mailer.pdf" title="Coachella Mailer"]
Established in 1947, the Coachella Chamber of Commerce has a proud history of serving its members.  Known as the "City of Eternal Sunshine", Coachella has a rich history as a rural and agricultural community in the desert.  It has become one of the state's fastest-growing cities in the late 20th century. When it incorporated in 1946, it had 1,000 residents, but as of the last census the population had grown to 40,704.
Growing beyond its agricultural roots, Coachella has quickly transformed into one of the valley's premiere art hubs.  The Coachella Walls, beautiful murals painted by local artists throughout downtown that celebrate the city's people and history, adorn historic buildings. Visitors can enjoy a variety of restaurants, downtown shops and gambling at Augustine Casino and Spotlight 29 Casino.  Hotel Indigo, a planned 35-acre resort will add to the city's growing reputation.
The Coachella Chamber of Commerce is a founding member of the Greater Coachella valley Chamber of Commerce.
For more information on the City of Coachella, or the Coachella Chamber of Commerce, visit:
Coachella Chamber of Commerce
1515 6th St.
Coachella, CA 92236
Mon-Thu 8:30AM – 4:30PM
(760) 347-0676
Information on the City of Coachella click HERE
GCV COACHELLA CHAMBER OF COMMERCE BOARD OF DIRECTORS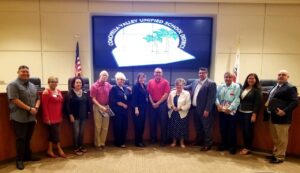 Aurora Saldivar (Chair), Assemblyman Garcia
Jason Cabanyog (Treasurer), Imperial Western Products
Randy Hopkins (Secretary), Santa Rosa Del Valle
Mirna Flores, FitzHenry-Wiefels Cremation & Burial Service
Brett Hunn, Augustine Casino
Angelo Perez, Desert Resort Security Inc
Margit Chiriaco-Rusche, Chiraco Summit
Esteban Rodriguez, Mi Tierra Bakery
Alma Gutierrez, Plaza Garibaldi
Marie Rosales, Desert Oasis Healthcare
Sylvia Ramirez, Muebleria Guadalajara Furniture
Karin Lopez, Mi Lindo Sinaloa
Sylvia Tenorio, Friends of the Indio Senior Center
Susie Del Toro, La Botica Phamacy
Brian Bilhartz, Bilhartz Desert Insurance Agency