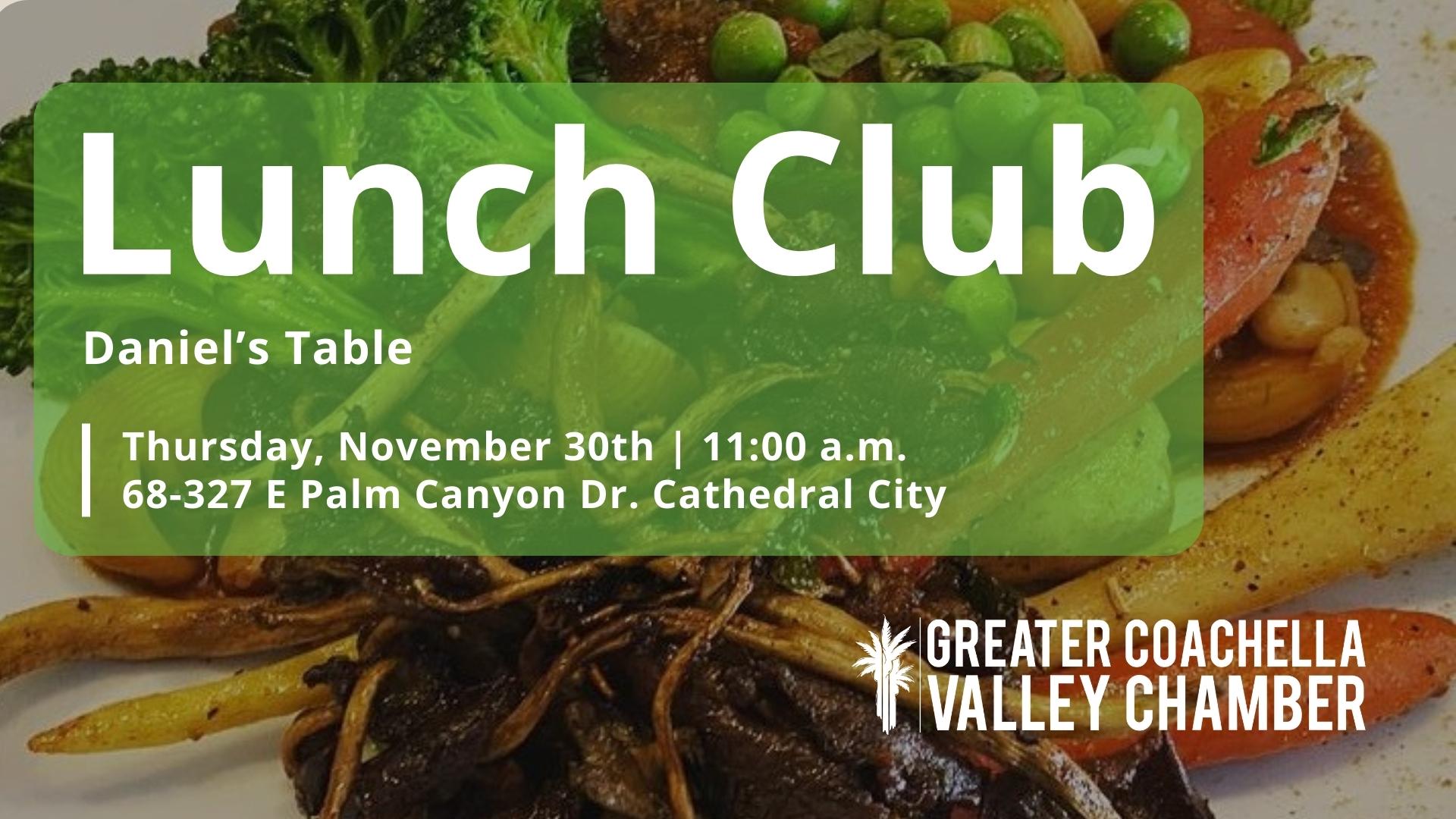 November 30 @ 11:00 am

-

1:00 pm
The Greater Coachella Valley Chamber of Commerce is proud to present Daniel's Table, held at Daniel's Table in Cathedral City. This fun networking opportunity mixes two member favorites; business connections and great food! Lunch Club allows members to experience new culinary delights from across the valley while networking with dozens of fellow chamber members during their lunch hour. Each attendee is encouraged to bring their business card and 30 second elevator pitch with them.
The Lunch Club at Daniel's Table will be held on Thursday, November 30th, located at 68-327 E Palm Canyon Dr. Cathedral City. The event begins at 11:00 a.m. and will last for approximately one and a half hours. There is no charge to attend, but members are responsible for the purchase of their own lunch. Lunch pricing, menu and attendee cap coming soon. Members must register in advance as space is limited. For additional information contact the Chamber at 760.347.0676.
Chef grew up in kitchens as a child and he has always been in a kitchen and that's what he remember most. Walking around endlessly in one of his grandmother's kitchens looking to see what was being prepared and what was being served for the day. Chef was one of the lucky ones that usually got to hang out in the kitchen because he wasn't the one that had always to touch or move something, that came later.  Remembering all of his grandmother's by their individuality and sacredness, their hard work gardening, chopping, dicing, and serving so that everyone that happened to be there that day was going to eat very, very well. Chef saw this as a little kid and it was exciting for him. The energy and love that he got to witness back then following grandma around in the kitchen as a child is what was believed to be transparent with the same energy and love in my cooking food today.