[pdf-embedder url="https://gcvcc.org/wp-content/uploads/2020/04/La-Quinta-Mailer.pdf" title="La Quinta Mailer"]
The La Quinta Chamber was formed in 1947 and for many years served as the backbone of the La Quinta community, helping to support a growing business community through its eventual incorporation as a city in 1982.  La Quinta is home to a large seasonal population but now boast a busy economy that supports a year-round community of over 40,000 people.
La Quinta is home to one of the valley's oldest, and strongest tourism economies.  In 1926, Walter Morgan established the La Quinta Resort at the northern section of Marshall Cove as a type of secluded hideaway for nearby Hollywood's celebrities and socialites. The Resort was the site for the Coachella Valley's first golf course and today stands as an international destination.  Old Town La Quinta bustles with shopping, dining and entertainment nightly, while outdoor bike trails and scenic mountain foot paths fill the days. A vibrant shopping district and residential home area lies to the city's northern boundary.
The La Quinta Chamber of Commerce is a founding member of the Greater Coachella Valley Chamber of Commerce.
For more information about the City of La Quinta, or the La Quinta Chamber of Commerce, visit us at:
La Quinta Chamber of Commerce
78015 Main St, Suite 206
La Quinta, CA 92253
Please note, this office is by appointment only, please call in advance.
(760) 347-0676
Information on the City of La Quinta click HERE
Information on visiting La Qunita click HERE
GCV LA QUINTA CHAMBER OF COMMERCE BOARD OF DIRECTORS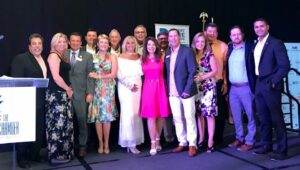 Ray Dominguez (Chair), Lamar Outdoor
Lee Osborne (Treasurer), Osborne Rincon
Steve Weiner (Secretary), National CineMedia
Doug Motz, Motz Insuarnace Agency
Mike Chappa, Fairway Mortgage
Karen Lambrose, Envoy Mortgage
Eric Mosser, Edward Jones Financial
Steve Wilson, Optavia/Next Level Coaching
Carrie Babij, Desert Insurance Solutions
Elisa Guerrero, Old Town Peddler
Leslie Locken, Old Town LQ
Janice Isbell, La Quinta Chevrolet
Erik Johnson, Planet Fitness
Trina Alesi, Desert Sands Teacher's Association