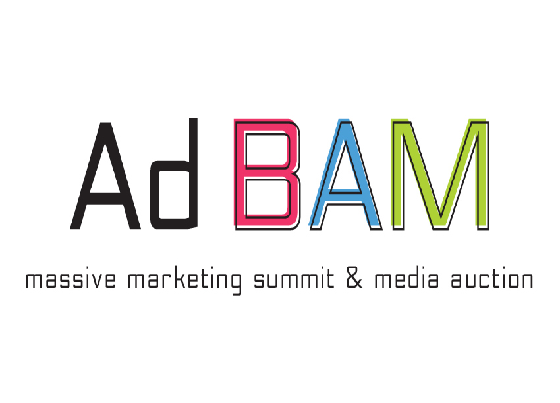 AdFed and The Chamber Present: AdBam 2017 & Media Auction Mixer
Marketing Powerhouses present at Desert Ad Fed's Annual Marketing Summit
$5 Entry to score great deals on advertising at the Annual Media Auction Mixer, following AdBAM
Pandora Media Inc. is just one of the three Thought Leaders confirmed to present at Desert Ad Fed's Annual AdBAM Massive Marketing Summit on Friday, June 16th. Together with the Greater Coachella Valley Chamber of Commerce, Desert Ad Fed hosts the summit in conjunction with the annual Media Auction at Fantasy Springs Resort Casino, 84-245 Indio Springs Pkwy, Indio, CA beginning at 1:00pm.
Three AdBAM Info Slam Thought Leaders will engage the audience with an all-encompassing discussion on today's ever-changing advertising environment. These Leaders come from an award-winning advertising and marketing agency, the world's largest music discovery platform and a social media powerhouse.
About the Keynote Speaker: Laura Fernandez joined Pandora Media Inc., the world's most powerful music discovery platform, in 2012 when she was hired to launch local sales efforts in the Las Vegas market. After much success in the market, particularly with Casinos, Laura transitioned into a new role, launching the Casino and Gaming Division at Pandora. With deep understanding of the industry, Laura worked in partnership with internal teams across the company to develop products and solutions that would efficiently and effectively meet the goals of casino marketers across the country whether focused on Property, Entertainment, Gaming or a combination of the three. With the industry constantly evolving, Laura continues to challenge Pandora on new ways to help marketers capture attention of casino enthusiasts. Laura is innovative, strategic and a born leader, who has racked up quite the frequent flyer miles educating Pandora executives across the country on how best to approach the casino and gaming industry. Prior to Pandora, Laura worked at CBS Radio and iHeart Radio.  Laura received a Bachelors of Arts in Broadcast Journalism and Political Science from West Virginia. Outside of work, she enjoys living in Las Vegas with her husband J.C. and being an avid equestrian specializing in Hunter & Jumpers.
Keynote Speaker Laura Fernandez, Pandora Media Inc. will present: Engagement Redefined-Capturing Attention in a Connected World
President of Business Development for Pulse Media, a Marketing and Advertising Agency based in Southern California, Kyle Mastin, has worked with high caliber clients such as Nike, Ford, KIA and others. He will bring his founding knowledge to the Coachella Valley to present on the culture of high performing teams and offer ideas and solutions for building an incredible company culture to accelerate businesses to the next level.
Pulse Marketing's Kyle Mastin will present: Developing a Culture for High Performing Creative Teams
The Millennial workforce is here, whether you like it or not. How you adapt to create a thriving culture will determine the future success of your company today.  Learn how to develop a high performing creative team based on a thriving culture.
Three takeaways from Kyle's presentation:
What Is "Culture" and how does it benefit everyone?
Millennials in the workforce and how to maximize their performance.
Creating a culture of employee engagement.
With over 12 years of experience in sales and marketing, Kyle has been known to drive business growth, capitalize on new revenue potential, and develop high performing teams. As one of the founding members of Pulse Marketing he is passionate about investing in people and accelerating their success by his relentless pursuit of excellence. His primary goal is not only to serve as a resource in marketing and advertising but to educate business owners on the value of investing in their employees to increase productivity, reduce expenses and support their journey to become industry leaders.
Nathan Greenberg of Arkside will present: Storytelling through Social Media: How Experience Sharing Online is Transforming Marketing
Three changes you can make to your social media efforts TODAY that will improve your results.
Tips for your sales staff to use social media to close more deals
Free and low-cost ways to easily create online content and share it quickly
Nathan Greenberg has been a marketing entrepreneur for nearly 20 years. He has gained and shared valuable marketing and business management knowledge working on all three sides -media, agency, and client- of the industry. He started his first company at the age of 15 after teaching himself programming and design for the then-new industry of website development. After majoring in Business Administration at University of California, Riverside, he became a top salesperson for Magic Broadcasting, a 17-station nationwide radio group. Nathan transitioned to the world of ad agencies and began cultivating key accounts, eventually being promoted to sales management and Vice President of New Business Development.
In addition to running Arkside, Nathan is a contributing blogger to the Huffington Post and popular public speaker on topics including marketing, media, technology, and entrepreneurship. He is an Eagle Scout, past President of the UCR Chapter of the Delta Sigma Pi professional fraternity, and is learning to play the bagpipes. He lives in Moreno Valley, CA with his wife and son.
Beginning at 4:30pm, attendees put newfound knowledge to great use at the annual Media Auction. Find the best deals ever on every kind of media from TV, radio, outdoor to online, public relations and graphic and printing services. Landmark deals from Lamar Media, $1,500 in TV schedules from KESQ/KPSP/KDFX, Ace Printing, $6,000 in Jack-FM radio schedule, Creative Services from FG Creative, $10,000 worth of ESPN radio, KMIR Tv buy, Desert Sun ads in various sizes and so much more!
$35 Desert AdFed and Greater Coachella Valley Chamber Members;
$45 Non-member
$5 Media Auction only
For tickets to AdBAM and/or the Media Auction, visit Eventbrite:
https://www.eventbrite.com/e/ad-bam-massive-marketing-summit-media-auction-tickets-34762223747
American Advertising Federation/Palm Springs Desert Cities (now Desert Ad Fed) is a non-profit organization of professionals dedicated to enhancing the advertising profession through fellowship, education, community service and public awareness. We are the local chapter of The American Advertising Federation, a national organization of industry professionals. Please visit us at www.DesertAdFed.org.