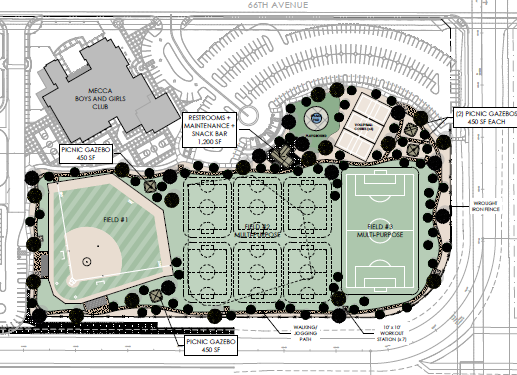 County Receives State Grant to Build Mecca Park
News from Supervisor V. Manuel Perez
Mecca, CA: Riverside County has been awarded $5.8 million in state grant funding by the California Department of Parks and Recreation, which announced the award on Tuesday.
The grant will fund the development of the Mecca Regional Sports Park, which will bring an active green space and recreational amenities for the community of Mecca, which is home to many families who work in the agriculture and hospitality industries.
The future park will be on county-owned land adjacent to the Mecca Boys and Girls Club and will complement a new bridge that is set to start construction in April.
"This is amazing!" said Supervisor V. Manuel Perez. "Riverside County is tremendously thankful to receive this grant and fulfill a vision of Supervisor Roy Wilson and the Mecca community for a park next to the Boys & Girls Club. We are proud to be among the initial allocations from this park bond, a significant investment in the eastern Coachella Valley, an area with a strong need for more parks, green spaces and activities for children, youth, adults and senior citizens."
The Mecca Regional Sports Park was envisioned in the early 2000s. Major community improvements such as the family and farmworker service center, the community health clinic, the community library, the fire station and the Boys & Girls Club were built in downtown Mecca during that time utilizing the redevelopment program, which is no longer available.
Nearly three years ago, as a new county supervisor, Supervisor Perez revived plans for the park. With the Avenue 66 bridge coming in, he saw potential opportunities to dust off the plans for this park. The park's prospects were enhanced with the voters' passage of a statewide park bond, Proposition 68, in June 2018, which created a funding opportunity.
Last summer, in preparation of the grant application, the Riverside County Economic Development Agency conducted community outreach on the proposed park and sought ideas from residents on the features they would like it to contain. The county incorporated the preferences of community members and updated the design for the future park.
The 6.67-acre park will be a community gathering space with features such as: sports fields for soccer and baseball, volleyball courts, walking/jogging paths, picnic areas, workout stations, shaded areas, a playground, a splash pad and public art.
The announcement by the California Department of Parks and Recreation is located at: https://www.parks.ca.gov/NewsRelease/938 (and full list here: https://www.parks.ca.gov/?page_id=30332).
###
 Supervisor V. Manuel Perez is the chair of the Riverside County Board of Supervisors, representing the eastern two-thirds of Riverside County as the Fourth District Supervisor. Stretching from Palm Springs and Desert Hot Springs, south to the Salton Sea and east to Blythe and the Colorado River, the Fourth District is the largest geographical district in the county.