Family & Friends Gather to Celebrate Life of Former Indio Mayor, Chamber Chairman
News from GCVCC:
James John O'Brien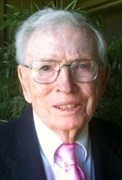 1919 – 2017
10/17/1919 – 8/16/2017
Jim was born in Oakland California on October 17, 1919 to James John O'Brien and Sarah Mullins O'Brien. He attended St Mary's High School and University of San Francisco. Jim was accepted into Stanford Law School but, against his father's wishes, following Pearl Harbor he declined and joined the Marines as a private in January of 1942. Jim served two terms of duty in the South Pacific and was discharged as a Marine Corp Major with numerous commendations for his service.
As part of the Military Officer Placement Program, Jim accepted a job as a USDA agriculture inspector and in 1948 moved to Indio, CA. In December of 1950 Jim purchased his own farm growing carrots, corn, cotton, alfalfa and grapefruit. Jim expanded his farmland and, working with a major seed company and Cal Poly, developed the first hybrid corn seed focused on better taste, size and less kernel damage. His corn was featured in many local chains as "Jimmy O'Brien's Sweet Corn" and his carrots were purchased by Beech Nut for their top of the line baby food. As land value in the desert continued to rise, Jim transitioned from farmer to land developer.
While attending a friend's wedding in the Bay Area, Jim met Navy nurse Cynthia Murray. In September of 1952 they married and within five years had four children together. Jim was a devoted husband and father, spending many years coaching his children's little league games and always making sure Cynthia, who for 62 years he referred to as "his bride", was well taken care of. Once their children were grown, Jim and Cynthia fulfilled a longtime dream and purchased a home in Lake Arrowhead, CA where they spent their summer months. Following Cynthia's death in 2014, Jim moved to Pacific Palisades to live with his daughter Kathy, where he remained until his passing.
In addition to his strong dedication to family, Jim was passionate about giving back to his community. Jim served as the Mayor of Indio, was one of the original founders of the Boys & Girls Club of the Coachella Valley, (The Indio club bears his name), Member of the Indio City Council, President of the Indio Chamber of Commerce, Chairman of the of the construction committee for Our Lady of Perpetual Help Catholic Church, an active member of the Knights of Columbus, and served on numerous boards, including the United Way, the Farm Bureau, and the Blood Bank of the Desert.
Jim passed away peacefully at home on August 16th surrounded by his loving family. He is survived by children James (Debbie), Kathleen, and Thomas (Ginny). Jim has seven grandchildren – (Summer, James, Katherine, Margaret, Elizabeth, Monica & Claire) and eight great-grandchildren (Jakob, Brandon, Thomas, Elizabeth, Samantha, Emma Jane, James and Davis. Number nine, Baby Claire, expected any day now.) He was predeceased by his wife Cynthia (2014) and his youngest son John (1993). At the end of his nightly grace, Jim always added, "And thank you, dear God, for our family". Jim O'Brien always had a smile on his face and a funny story to tell. He was truly a selfless man who lived to serve others.
Family and friends will gather to celebrate Jim's life Saturday, August 19, 11:00am, at Our Lady of Perpetual Help Catholic Church, 45-299 Deglet Noor St., Indio. In lieu of flowers, please make donations to The Boys & Girls Club of the Coachella Valley – 42-600 Cook St., Palm Desert, CA 92211