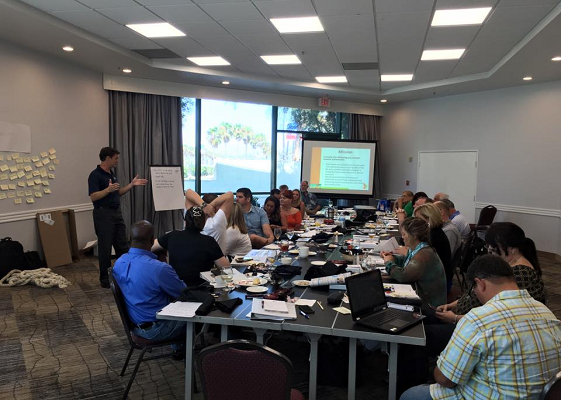 GCVCC Starts Year With 1,259 Active Members
News from the GCVCC:
The 2016/2017 Greater Coachella Valley Chamber of Commerce Board of Directors met for their annual Board of Directors Retreat in San Diego, CA August 5th and 6th.  The Board addressed a wide range of topics, from future growth plans to current branding and marketing efforts.  The retreat concluded with a draft 5 Year Plan for staff to follow as a blueprint to future success.
Below is the President's Welcome Message for this business year delivered at the Retreat:
A Message From The President
August 5th, 2016
A year of growth, a year of change, and a year of triumph.  The Greater Coachella Valley Chamber of Commerce, a dream long sought, was brought to fruition by a group of visionary boards that moved the needle significantly forward for our entire business community.  Though our organization is barely a month old as I write this, it feels like a lifetime ago that we sat individually in our retreats and board meetings and asked the vital question, "Does this make sense?"
Balancing the needs of local business communities, while satisfying the need for a regional chamber, was the charter that came out of our joint meetings.  We pushed forward an aggressive agenda that would allow our local chambers to maintain their services, while consolidating financial resources and harnessing the collective talents of the individual chamber assets to move forward a regional agenda.  Today "The Chamber" enjoys tremendous resources working on behalf of our members, including 13 full time staff members, 19 regional board members, and strong local Business District Boards and Ambassador Corps.
On the membership front our business finds itself in a strong position regionally, with 1,259 Active (Dues Paying) Members.  Our overall membership portfolio continues to diversify, both regionally and within targeted industry.  The Chamber continues to seek ways to leverage a strong portfolio of events to increase our count even further, with events providing a working model for value added services and their correlation to potential membership.
Events and sponsorship's continue to provide a solid financial backing for our business, in addition to presenting unique branding and community touch points for our business members.  Over the last year our three chambers participated in, or directly hosted, over 100 events across the valley.  This year the GCVCC will host 31 major events, in addition to numerous smaller member events and learning opportunities.
From our innovative Business District model, to our historic partnership with our local Tribal Nations, the Greater Coachella Valley Chamber of Commerce is leading the way.  Under the leadership of a strong board and with the will of our members behind us, the 2016-2017 business year is poised to be a year like no other.
Joshua R. Bonner
President and CEO