Old Town Completes Recapitalization and Creates "Linden Plaza"
Four buildings at Old Town have been refinanced with a new $12.4 million loan from UBS. Additional capital and new financing at substantially lower interest rates give Old Town improvement reserves to renovate and create special features. The new Linden Plaza will add to residents' and visitors' enjoyment of Old Town – La Quinta's favorite gathering place.
The previous loan of $11 million with the Berger Foundation has been paid off with an additional one million dollars which may be used to for the Foundation's philanthropic mission: to support established organizations, especially those involved with social welfare, health and education that help people to help themselves.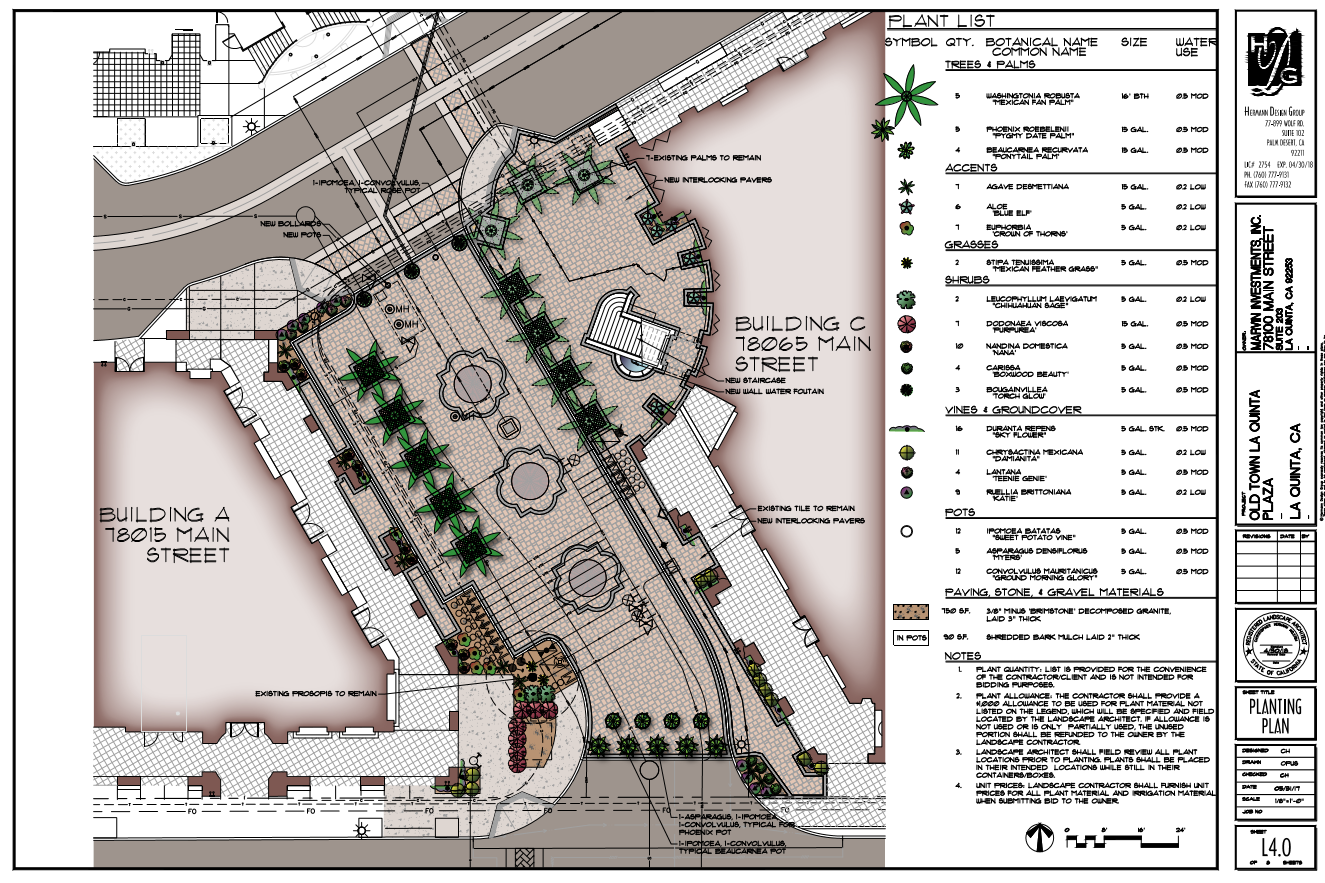 Linden Plaza will be an 8000 square foot area that is currently the side street between The Grill on Main and La Rue Bistro. This popular, dining enclave will be transformed into a pedestrian walk-street to enhance the dining experience at neighboring cafes.  Linden Plaza will also serve as a beautiful setting for outdoor events and entertainment. Improvements include decorative street pavers and lush re-landscaping. A staircase will be added between the Old Town Tap Room and The Grill on Main to give better access and visibility to the second floor restaurant (previously Hogsbreath).
The construction project begins on July 25th and will be completed by August 31, 2017. Old Town will remain open with all construction limited to the Linden Plaza area, so guests can enjoy Stuft Pizza, Solano's West Coast Bistro, The Grill on Main, Old Town Tap Room, The Coffee Company and The Wine Emporium in addition to shops and services.
During construction:
Old Town Tap Room will remain open except for the outdoor patio area.
The Grill on Main will be closed from August 1-15th.
La Rue Bistro and Tarah Jade will be closed for the month of August.
Old Town is home to over 30 local cafes, boutiques, salons, and business services as well as nightly entertainment, seasonal Farmers' Markets and the  Art on Main Street shows. For more information, contact Lisa West at 760-600-0758.
Contact: Shelley Glickstein, Marketing
Cell: 310-986-5444 or shelleyglickstein@ymail.com