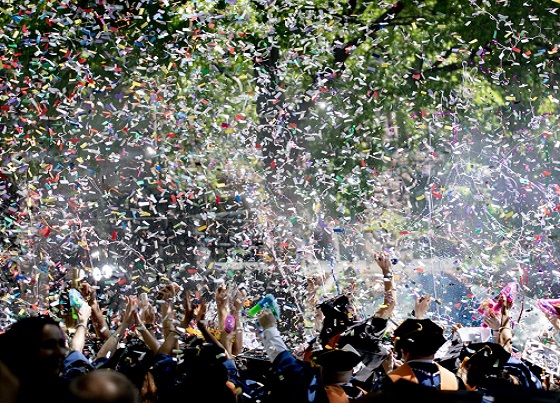 OneFuture Coachella Valley to Hosts 10th Annual Awards Ceremony
News from OneFuture:
ONEFUTURE COACHELLA VALLEY AWARDS NEARLY A HALF MILLION IN SCHOLARSHIPS AT ITS 10TH ANNUAL AWARDS CEREMONY
This year, 106 students were awarded a total of $494,750 of scholarship money to attend college during OneFuture Coachella Valley's 10th Annual Scholarship Awards ceremony at the University of California Riverside's Palm Desert Campus Auditorium recently.
OFCV President/CEO Sheila Thornton said, "Today is a very special day because we are celebrating 10 years of scholarship giving as 2000 students have received more than $13.2 million in scholarships thanks to the College Future Foundation and about 20 matching partners and nonprofits throughout the region."
This year's participating partners were BBS Brokers Realty, The Living Desert, Desert Mirage Alumni Association and Modernism Week.
"In 2008, the College Future Foundation decided to start investing in the Coachella Valley, to change the college-going culture in the region," said Thornton. "Today we have much to celebrate! We would like the community to be aware of the major impact OFCV's scholarship initiative has made on the region, and how other organizations and donors can make an even greater impact by aligning with OFCV's regional efforts."
In his retrospective address, Ernie Rios, vice president of College Success, noted that more than $2 million of that $13.2 million funding is from more than 20 local businesses, education, nonprofit, civic, and private donors.
"In addition, some $30 million in state and federal aid has been aligned to OFCV's regional scholarship giving strategies," he said. "The results are a greater collective impact on college access and completion, as many local students have returned to the regional after college, leading OFCV's scholarship initiative," he said. Among the OFCV alumni who have returned are the Kamoei sisters, Sara, Bita and Bahareh, who are the first alumnae to become matching partners through their BBS Realty company and among the youngest philanthropists in the region; and the Figueroa family whose three siblings have been awarded scholarships since 2010 and are now engaged with advancing OFCV's college access/completion initiatives.
Desert Hot Springs City Councilmember Anayeli Zavala, who was also a former scholarship recipient, said, "It was a great experience to come back see the next generation of college students go off and hopefully come back and give back to the community. I know OneFuture Coachella Valley definitely inspired me to come back and give back to my community."
In addition, a number of civic leaders, business and foundation partners, matching scholarship and education partners among other leadership representatives were on hand for the scholarship awards ceremonies.
OFCV is located at 41550 Eclectic Street, Suite 200E, Palm Desert. For information, call (760) 625-0422 or visit www.onefuturecv.org.
About OneFuture Coachella Valley While our name is new, our work is long-established. This effort launched in 2005 as a career pathways initiative under the Coachella Valley Economic Partnership, and expanded to include a regional college access and scholarship initiative in 2009. Our partnership team now administers the selection and awarding of more than $1.4 million per year in scholarships and has been instrumental in creating a regional leadership focus on college and career success across all levels of education, business, and community. Visit us at www.onefuturecv.org Youtube.com: https://youtu.be/sL_qhmSdAcU