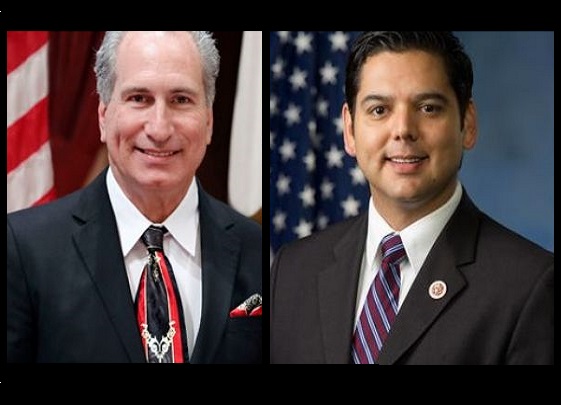 Raul Ruiz, Jeff Stone to debate in 36th Congressional Race
News from the Gulf-California Broadcast Company and The Desert Sun:
Palm Springs, California – The Gulf-California Broadcast Company and The Desert Sun will join efforts for a live one-hour televised debate between incumbent Rep. Raul Ruiz (D) and his Republican challenger, State Senator Jeff Stone.
Ruiz and Stone will face-off on Sunday, October 16, 2016. The debate will be broadcast live on KESQ
News Channel 3 and CBS Local 2 and streamed live on desertsun.com, kesq.com and cbslocal2.com from 6:00 to 7:00 PM. Following the one hour broadcast there will be an additional 30 minutes of debate carried online only on our websites.
Issues relevant to the Coachella Valley, including domestic and foreign policies, will be the main focus of the debate. Candidates will have two minutes to make an opening statement, one minute to answer questions, 30 seconds to rebut and 90 seconds to make a closing statement. Desert Sun political reporter Jesse Marx, John White from News Channel 3 and Brooke Beare from CBS Local 2 will ask questions of the candidates.
The live telecast marks the second time The Gulf-California Broadcast Company and The Desert Sun partnered for a broadcast debate. The first happened in 2014. It is also the second time a debate between the 36th district Congressional candidates will be simultaneously broadcast on two television stations and three local media websites, allowing for maximum access and viewership from district voters.
"This has been a rowdy political season — that's why it's critical to bring smart candidates together for intelligent debate," said Desert Sun Executive Editor Greg Burton. "We're looking forward to surfacing good ideas about the future of the 36th Congressional district and the Coachella Valley."
"We feel it is our responsibility to inform our viewers about candidates and issues," said Mike Stutz, general manager of the Gulf-California Broadcast Company, "Using the combined resources of KESQ News Channel 3, CBS Local 2 and The Desert Sun, we will be providing voters with a unique opportunity to understand the differences between these two candidates."
FOR MORE INFORMATION:
Greg Burton
Executive Editor, The Desert Sun
760.778.4637
Mike Stutz
General Manager, Gulf-California Broadcast Company
760.340.7001
About the Gulf-California Broadcast Company
The first television station to begin broadcasting in the Coachella Valley, KESQ News Channel 3 has been serving the Palm Springs area since 1968. Combined with CBS Local 2 in 2012, The Gulf-California Broadcast Company now operates five major television network affiliates and is the most watched source for television news in the Coachella Valley. Additionally, its internet sites and mobile apps garner more than 34 million page views annually.
About the Desert Sun
The Desert Sun has served the Coachella Valley since 1927. Today, there are nearly 9 million yearly unique visitors and more than 77 million yearly page views to DesertSun.com. The Desert Sun is also available via Android and iOS apps. Continue to follow our election coverage of local races as well as national politics from the USA TODAY NETWORK at DesertSun.com/elections-2016.