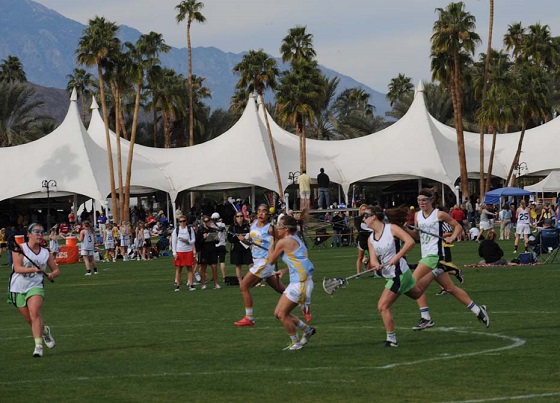 Sand Storm Lacrosse Festival Returns to Empire Polo Club
News from Empire Polo Club:
Sand Storm Lacrosse Festival Set to Host 368 Teams
Annual Tournament Celebrates 11 years in the Valley; Attracts Record 20,000+
Indio, CA –Synapse Sports is thrilled to host the 11th Annual Sand Storm Lacrosse Festival Jan. 13-14, 2018 at the Empire Polo Club in Indio.  A record 368 boys' and girls' teams – comprised of middle and high school players – are slated to compete on 60 fields in the 2018 event sponsored by Gatorade.  "We knew when we started Sand Storm in 2008 that it had tremendous potential.  A warm weather location, state-of-the-art facility, top-notch competition and detailed organization are the ingredients for success," said Cathy Samaras, found and CEO of Synapse Sports.  "Sand Storm lived up to its potential and exceeded expectations since the beginning.  Now it has become a destination event for club teams throughout the country as the premier winter tournament."
Sand Storm began as a girls' club tournament geared primarily towards clubs from Western States. It has since expanded its reach and now includes a significant number of teams from the Midwest, East Coast and Canada. The boys' component was added in 2011 and it has grown exponentially under the guidance of Boys Director Michael Watson, US Lacrosse Hall of Fame recipient and former UVA 4-time All American.  "It's a testament to the overall quality of the event.  Every team that participates each year has a great experience and it has spread by word of mouth that Sand Storm is a top-notch tournament in terms of a spectacular venue, precise management and strong competition," Watson said.  "A weekend in Palm Springs is very appealing to the out-of-town teams.  I couldn't be more thrilled with how the boys program has progressed."
Each year at Sand Storm a cut-a-thon is held in support of Locks of Love, a non-profit organization that provides hairpieces to children suffering from long term medical hair loss.  Stylists from local salon partner D&G Hair Stories in Palm Desert will be onsite on Saturday January 13th from 11 AM – 3 PM conducting cuts in the LAX MALL vending area maintained in the Medjool Lake Tent.  Anyone can come donate hair or check out a game – free admission and parking!
Sand Storm enjoys tremendous local support from the Greater Palm Springs Convention and Visitors Bureau and the Valley's local business community, including over 30 Host Hotel partners.
For more information about the 2018 Sand Storm Lacrosse Festival visit the event website: www.sandstormlacrosse.com