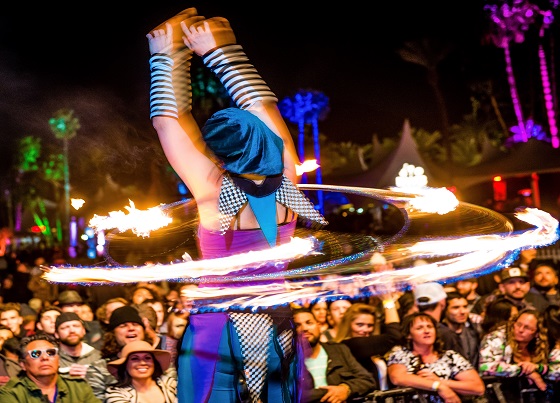 Snoop Dogg to Headline the 6th Annual Rhythm, Wine & Brews Experience
Photo Credit: Chris Miller
Experience craft beer and wine tasting from a huge selection of vendors, colorful art installations and live music performed by five crowd-pleasing bands.
News from Empire Polo Club:
Indio, CA: The 6th Annual Rhythm, Wine & Brews Experience returns to Empire Polo Club's fields on Saturday, March 4th, 2017. Presented by Empire Music Ventures, the 2017 line-up includes Snoop Dogg, Pepper, The Expendables, Andy Frasco and Spankshaft along with more than 100 breweries, wineries and food trucks.
Craft breweries and wineries will serve tastes of regional beer and wine from 3:00 PM– 7:00 PM as guests enjoy performances by American blues artist Andy Frasco and ska-punk band Spankshaft on the Tasting Stage.
Colorful and inventive art installations by day will transform into marvelously luminous arrangements at night.  Cirque entertainers will mingle with attendees savoring the extensive selections served up in the craft beer and wine gardens.
Gourmet food trucks and regional restaurants will offer a variety of mouth-watering fare ranging from spicy tacos and savory pizzas to hot sausages, thick grilled cheese sandwiches and aromatic Mexican cuisine.
At 7:00 PM when the tasting portion of the event winds down, the main stage will explode starting with The Expendables.  Second in line is Pepper and last, but definitely not least, the legendary Snoop Dogg will finish out yet another amazing Rhythm, Wine and Brews Experience 2017.
Tickets & Event Information
Tickets to the 2017 Rhythm, Wine & Brews Experience can be purchased online at www.RWBEXP.com starting November 15th, 2016.
Event Information
Date: Saturday, March 4th, 2017
Time: 4:00 PM – 11:00 PM (VIP ticket holders can enter at 3:00 PM)
Location: Empire Polo Club, Indio, CA 92201
General Admission Tickets (show only): $70 per person
General Admission Tickets (including free beer/wine tastings): $85 per person
VIP Admission Tickets: $150 per person
A portion of the proceeds will benefit the Casey Lee Ball Foundation to support pediatric kidney research
Food will be available for purchase
A large selection of breweries and wineries will offer tastings
Wine and beer tasting from 4:00 PM – 7:00 PM (VIP Tasting 3:00 PM – 7:00 PM)
Main Stage and headline performances from 7:00 PM – 11:00 PM
General Admission includes:
Entrance to the RWB Experience 4:00 PM – 11:00 PM
Unlimited tastes of beer or wine 4:00 PM – 7:00 PM
Souvenir tasting glass
Free parking
VIP Pass includes:*
Entrance to the RWB Experience 3:00 PM – 11:00 PM
Unlimited tastings of beer or wine 3:00 PM – 6:45 PM
Access to VIP Tasting Lounge 3:00 PM – 7:00 PM
Access to the Locale Magazine VIP Lounge and Bar
Souvenir tasting glass
VIP parking
Invitation to Friday night Bottle Share and Kick-off Party
*VIP Admission includes access to VIP tasting area with specialty wine and beer not available in the general tasting area, and complementary food. VIP admission also includes access to a second Locale Magazine VIP Lounge with a full bar adjacent to the main stage.
 RWB Schedule
 Gates Open
3:00 PM VIP
4:00 PM General Admission
Wine & Beer Tasting
3:00 PM – 7:00 PM
Tasting Garden Stage 4:00 – 7:00 PM
Andy Frasco
Spankshaft
Main Stage 7:00 PM – Close
The Expendables
Pepper
Snoop Dogg
Locale Magazine VIP Bottle Share & Kick-off Party
On Friday, March 3rd, the Rhythm, Wine & Brews Experience will host the Locale Magazine VIP Bottle Share and Kick-off Party in the Hacienda del Toro garden at Empire Polo Club.  This event is exclusively for VIP ticket holders, vendors, campers and media.
VIP guests each bring a bottle of a unique craft beer to share with the other VIP guests. It's a great opportunity to meet people and discover new craft beers while enjoying live music.  For more details about the Locale Magazine VIP Bottle Share & Kick-off Party, visit www.rwbexp.com.
 RV & Tent Camping
On-site RV and tent camping will be available. Fees include two days of camping: Friday, March 3rd and Saturday, March 4th. Visit www.rwbexp.com for more details about camping on-site.
Buy one night and get the second night FREE.
10'x30' Tent Campsites are $40
RV Campsites are $125
Tickets
Tickets can be purchased online at www.RWBEXP.com. Tickets can also be purchased at the gate on the day of the event. Children 12 and under are free. Ticket holders must be 21 years of age or older and show a valid ID to taste beer and wine.
A portion of the proceeds from the Rhythm, Wine and Brews Experience will benefit the Casey Lee Ball Foundation, a non-profit organization that supports pediatric kidney research.
Directions to the Rhythm, Wine and Brews Experience at Empire Polo Club:
From I-10 take the Monroe St. exit and head south on Monroe St. Follow the parking signs between Ave. 50 and 51 lots along Monroe St.
Event Location
Empire Polo Club
81-800 Ave. 51
Indio, CA 92201
Contact Information
info@rwbexp.com
About Snoop Dogg
According to Wikipedia, American rapper and hip-hop artist Snoop Dogg began his music career in 1992 when he debuted on Dr. Dre's The Chronic album.  Since then, Snoop Dogg has sold over thirty-five million albums worldwide.  In 2015 he released his 13th studio album, BUSH, which was produced by Pharrell Williams.  The album landed at the top of the hip-hop/R&B charts and 14 on the Billboard 200.  His new album, Coolaid, came out in 2016 and was well received, according to biography.com.   For more information visit http://snoopdogg.com .
 About Pepper
Pepper is an alternative-rock trio originally from Hawaii. The band consists of vocalist/guitarist Kaleo Wassman, vocalist and bassist Bret Bollinger and Yesod Williams on drums.  "The band's music – both live and on their releases – is really about enjoying life and being grateful for each experience, a sensibility that's very familiar to the three musicians currently in their career. From their 1999 debut Give'n It to their 2006 standout album No Shame, which was recorded with 311's Nick Hexum, No Doubt's Tony Kanal and Butthole Surfers' Paul Leary, Pepper has embodied not only a style of music but a lifestyle, one that's most easily found on beaches across the world, but also one that's relatable to anyone anywhere."  http://pepperlive.com/pepperbio
 About The Expendables
"For eighteen years The Expendables have been bringing their perspective to the world of reggae rock. Instead of following the traditional cookie-cutter blend of reggae, punk, ska and hip-hop commonly replicated in the genre, The Expendables have perfected their own unique approach of face-melting solos, mind-bending jams and danceable grooves, blurring the lines of where one genre ends and another begins." http://www.theexpendables.net
 About Andy Frasco
"Andy Frasco, the 27-year old Los Angeles, CA native singer / songwriter / band maestro / entrepreneur / party starter / everyday hustler, and his band of gypsies "The U.N." have been cited frequently as "Party Blues," but the band's musical inspirations and influences run much deeper incorporating elements of Soul, Funk, and Rock as well as tones of Roots, and Americana, creating a much more diverse sound and style that is distinctly Andy Frasco & the U.N."    http://andyfrasco.com
About Spankshaft
"Hailing from Joshua Tree, deep in the heart of Southern California's Mojave Desert, Spankshaft is a five piece pop-ska-punk band, that seamlessly bends genres to create something uniquely spankshaft.
Comprising of brothers, Brandon and Brent Simpson on Guitar and Bass, Drummer Russel Waldron, and a horn section of Clint Stoker and Scott 'Drago' Kisinger, spankshaft brings the energy every night, and is sure to make people move and shake. Formed in 2009, and with the current lineup set for years there is a camaraderie that makes spankshaft a family. "
About Empire Music Ventures and Empire Polo Club Events
Empire Music Ventures, owned by Alex Haagen IV, is located in Indio, CA and produces concerts and festivals. These events include the Rhythm, Wine and Brews Experience and numerous concerts held at the Date Shed and other venues.