News from GCVCC Staff:
Greater Coachella Valley Chamber of Commerce is proud to announce the creation of a first-ever printed regional business to business directory for the Coachella Valley.
All 1,300 Member Businesses will receive a complimentary listing. Members should check their listing to be certain the contact information is correct. Contact The Chamber to make changes by calling (760) 347-0676 or emailing us at [email protected] as soon as possible.
Advertisements are now being sold and space is limited. Please complete flyer below with order and contact information or reach out to your representative for details. You won't want to miss out on this!
"A Regional Business to Business Directory was requested from our Membership and so we are delivering. It makes sense for several reasons: businesses from across the valley are still getting to know one another. We started the regional chamber two years ago and since then the floodgates have opened! Rare is it (if never) that someone only does business with their neighborhood, or say that their customer is strictly limited to their city. No – if you are a local business, your customer is located throughout the desert area. We've been successfully connecting the area since the regional chamber's conception.
The next reason this makes sense is because part of our chamber's success is due to Member to Member referrals. This is shown in our database, phone calls and the four visitor's centers that GCVCC runs throughout the valley. Just from the Referral Lunches alone in 2018 we have tracked over $300,000 in transactions done. For many, this is why they have joined a regional chamber. The directory will also be posted online for guests and visitors." – Katie Stice, IOM, ACE, Regional President
Are you a potential member looking to gain exposure, increase your sphere of influence and build your business? Join GCVCC today by contacting us at (760) 347-0676 and an executive will come to greet you with products, programs, services and benefits, such as a listing in this guide.
About GCVCC: Greater Coachella Valley Chamber of Commerce is the largest chamber and referral resource in the entire county of Riverside. We have 13 staff members with over 90 years local chamber experience. We have a full-time Legislative Advocate working on behalf of small business. Free exposure opportunities include The Gem (monthly reaching 26k) the directory and four visitor's center locations throughout the desert (in Cathedral City, Coachella Indio and La Quinta) Our cost is that of about one chamber, but you receive the benefits and reach of four. Meet our community leadership, Board of Directors here: https://gcvcc.org/board-of-directors/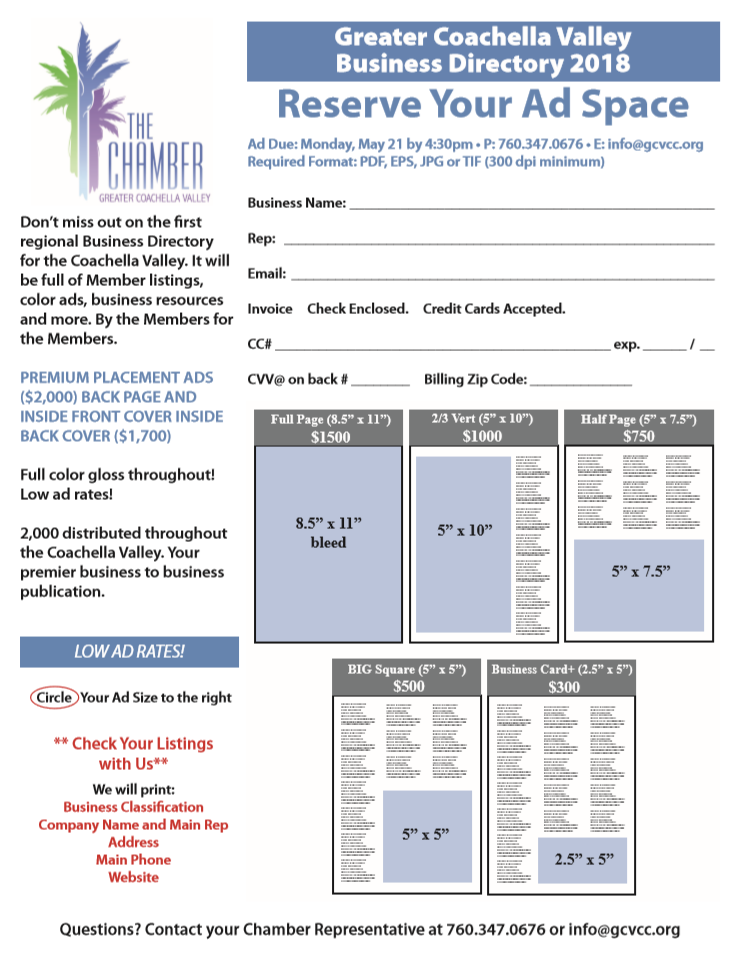 Click Here for PDF Version